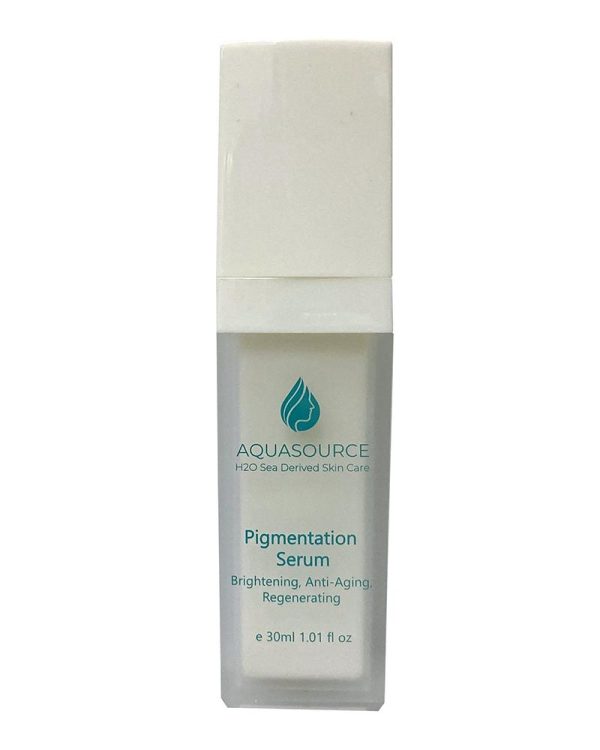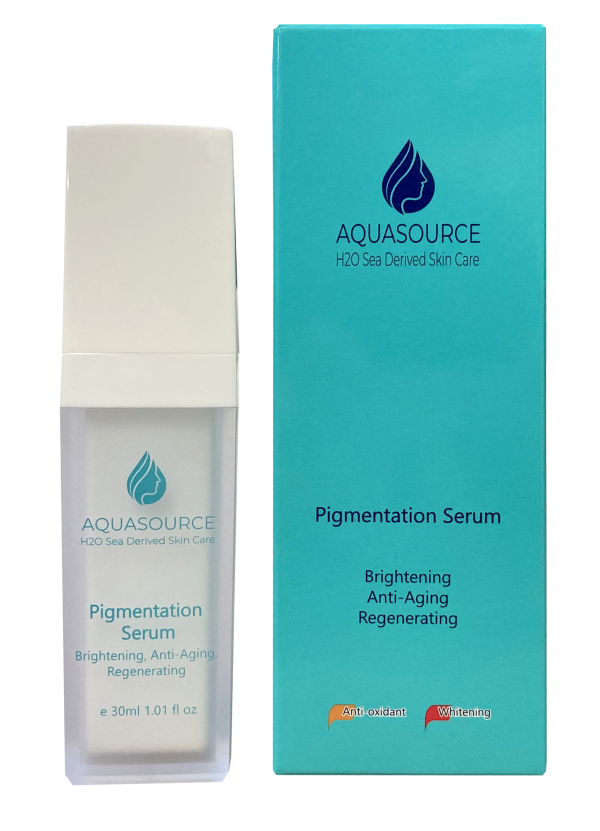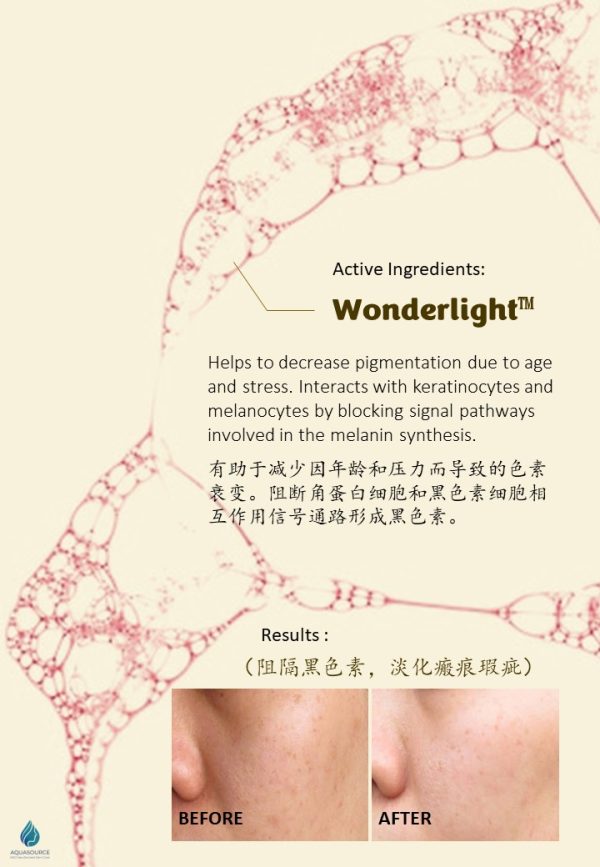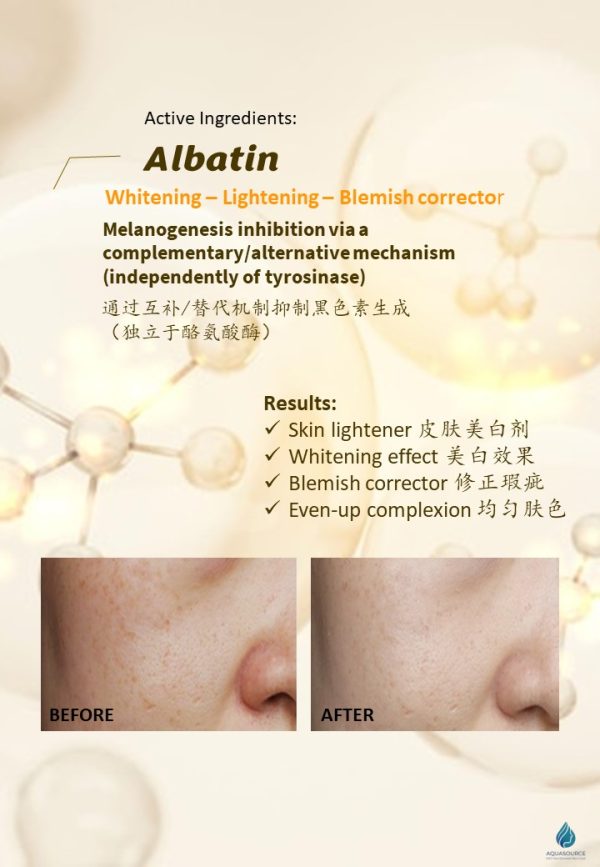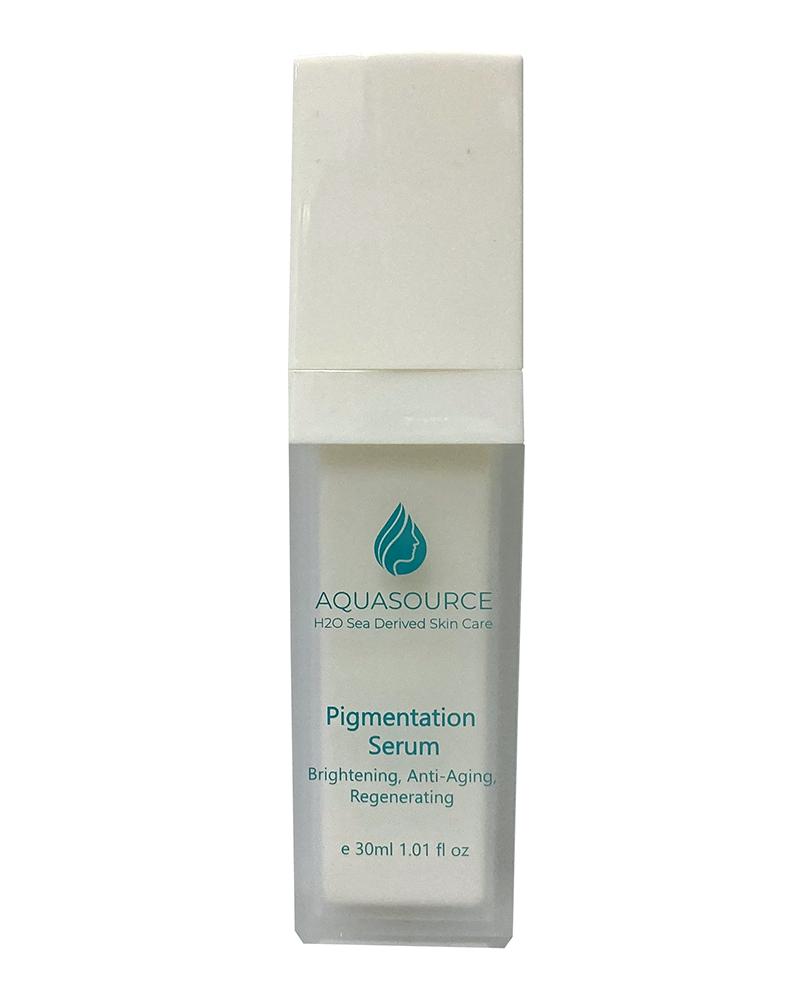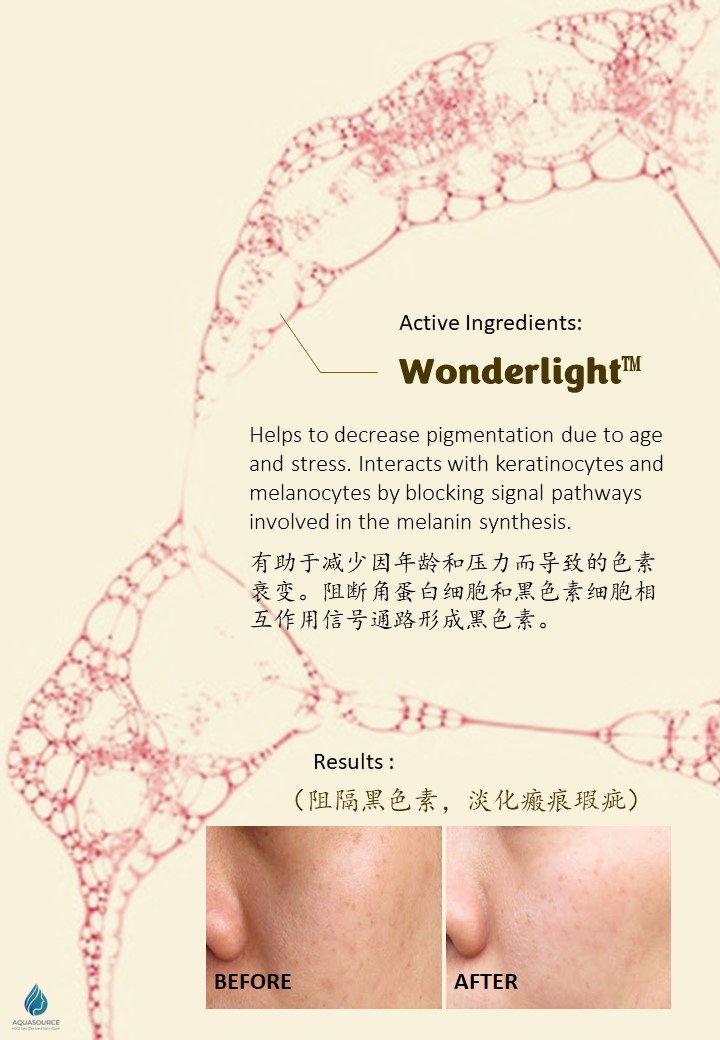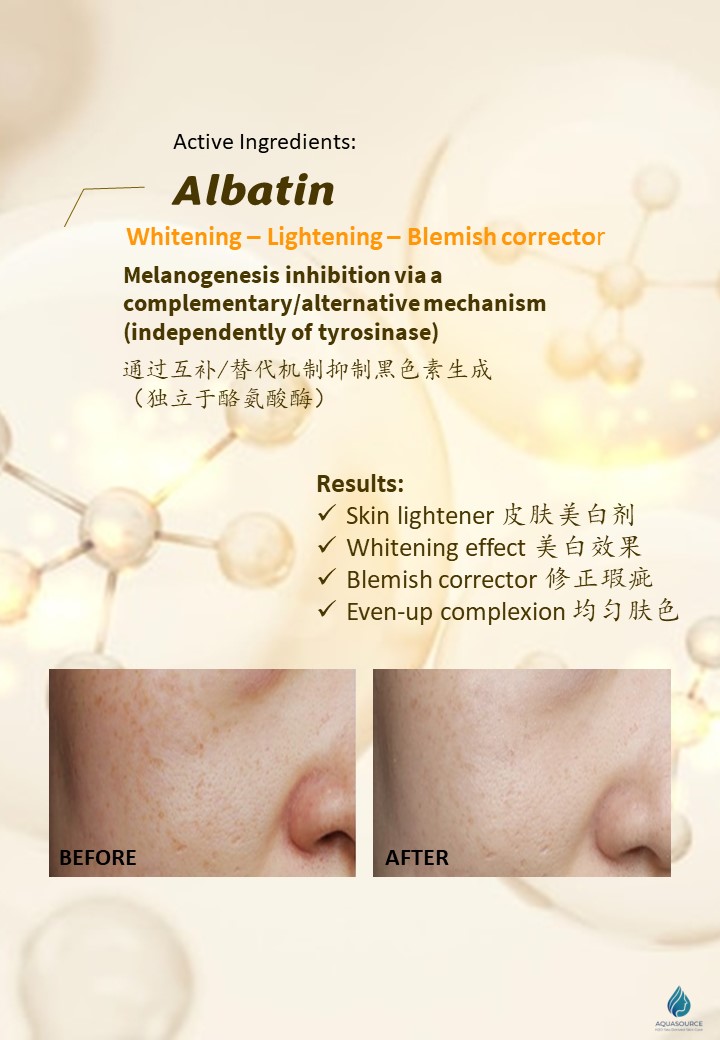 Pigmentation Serum (30ml)
RM198.00
Size : 30ml
Retail Selling Price :
(WM) RM198  (EM)  RM208
Description
Additional information
Active Ingredients
Ingredients
Description
This lightweight cream serum is packed with ingredients that are proven to brighten while minimizing the appearance of dark spots, hyperpigmentation and dark patches for a more even skin tone and texture.
这款质地轻盈的乳霜精华液富含有提亮肤色的成分,同时减少黑斑、色素过度沉着和深色斑块的出现,使肤色和质地更加均匀。
Skin Type : 
Normal Skin
Oily Skin
Dry Skin
Combination Skin
Dull Complexion Skin
Hyperpigmentation
Direction :
Apply to skin in a thin layer and allow to dry before applying.
Active Ingredients :
| Wonderlight
Helps to decrease pigmentation due to age and stress. Interacts with keratinocytes and melanocytes by blocking signal pathways involved in the melanin synthesis. 有助于减少因年龄和压力而导致的色素衰变。阻断角蛋白细胞和黑色素细胞相互作用信号通路形成黑色素。
| Senestem (Plantago Lanceolata Extract – Stem Cell) 长叶车前叶提取物
Reduce sign of aging, enhance skin elasticity and brighten the pigment spots, environment to limit melanin overproduction. 减少老化迹象,增强皮肤弹性,使色素斑点变亮,限制黑色素过度生产。
| Aqualance™ (Seamollient)
Acts as an osmo-protecting, moisturizing and hydrating agent. It ensures aqua-homeostasis of the skin cells and progressively rehydrates different layers of the skin. 一种保湿剂,它确保皮肤细胞的水平衡,并逐渐补充水分不同层的皮肤。
| Tocopheryl Acetate (Vitamin E)
Is a powerful antioxidant with anti-inflammatory properties, which makes it ideal as a skin treatment. It can repair damage to the sensitive skin, lessen swelling, moisturize, and it has anti-aging properties. It can also provide protection from the effects of the sun's rays. 具有抗炎特性的抗氧化剂,是皮肤护理的理想选择。它可以修复敏感皮肤的损伤,减轻肿胀,保湿,并具有抗衰老特性。它还可以保护免受太阳光线的影响。
| Centella Asiatica (Centella Asiatica Leaf Extract) 积雪草
A great hydrating ingredient to soothe rough and irritated skin. It can limit inflammation, promote collagen growth. 一种很好的保湿成分,可舒缓粗糙和受刺激的皮肤。它可以限制炎症,促进胶原蛋白生长。
| Humulus Lupulus Extract 啤酒花
Humulus lupulus extract effective in antimicrobial. It also helps remove the dead skin layer from the epidermis and cleanses the skin. It forms a layer on the skin that protects the skin from outer environment to preserves skin's skin moisture. Helps decrease hyperpigmentation accentuated by age and stress. 有效的抗菌,有助清理表皮的角质。保护皮肤免受外部环境的影响,保持皮肤的水份。有助减少因年龄和压力造成的色素斑。
| Albatin
Skin brightening agent, blemish corrector. 皮肤亮白剂,瑕疵校正剂。
Ingredients :
Purified Water, Glycerin, Homarine HCL*, Erythritol*, Chamomilla Recutita (Matricaria) Extract*, Plantago Lanceolate Extract*, Centella Asiatica Leaf Extract*, Hyaluronic Acid, Aminomethylphosphonic Acid, Humulus Lupulus (Hops) Extract*, Phenoxyethanol, Chlorphenesin, DMDM Hydantoin, Tocopherol Acetate, Polysorbate 60, Paraffinum Liquidum & Propylene Glycol, PPG-5-Ceteth-20 & Carbomer, Di-PPG 3 Myristyl Ether Adipate, Polyglyceryl 3 Ricinoleate, Acrylates/C10-30 Alkyl Acrylate, Trisodium EDTA.