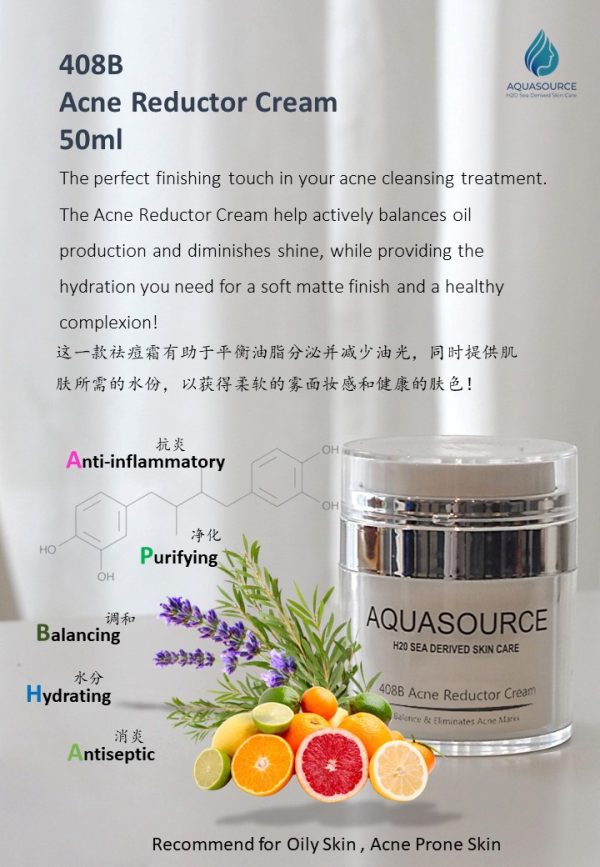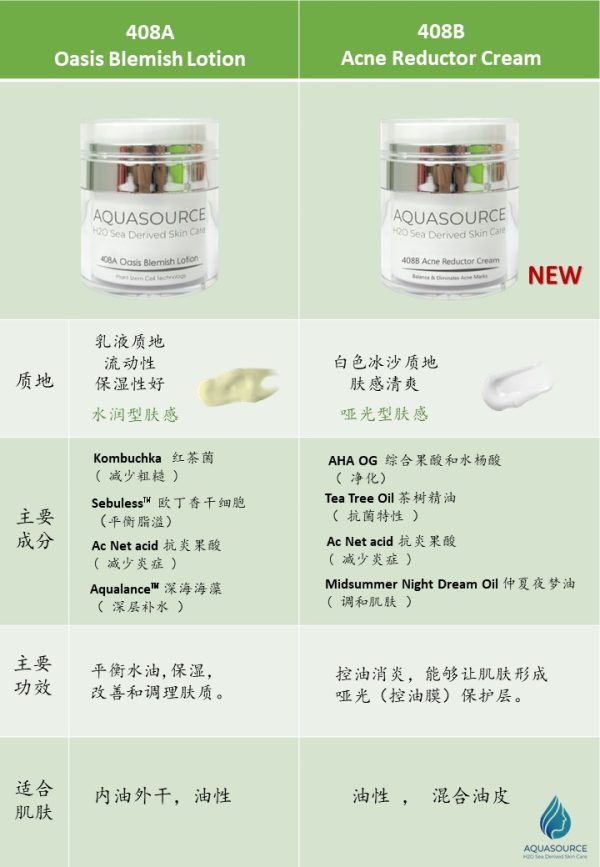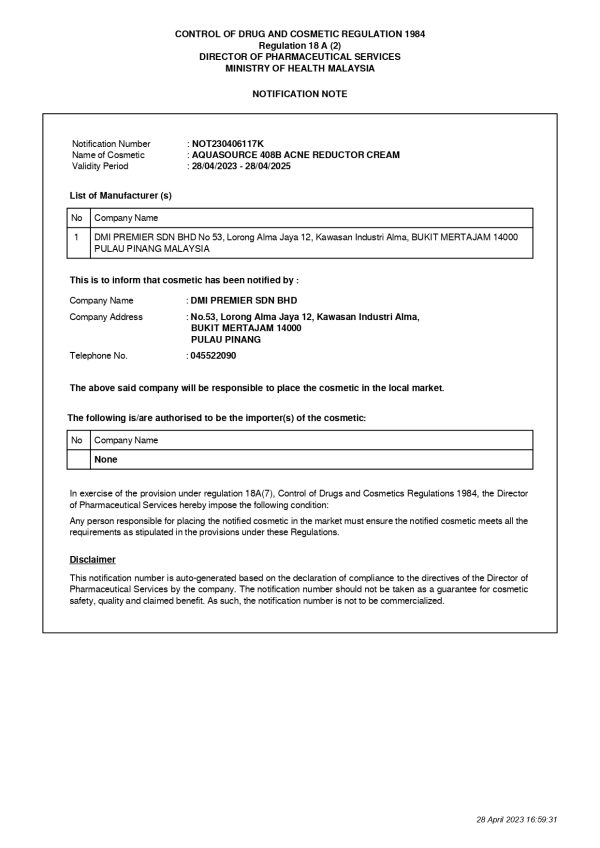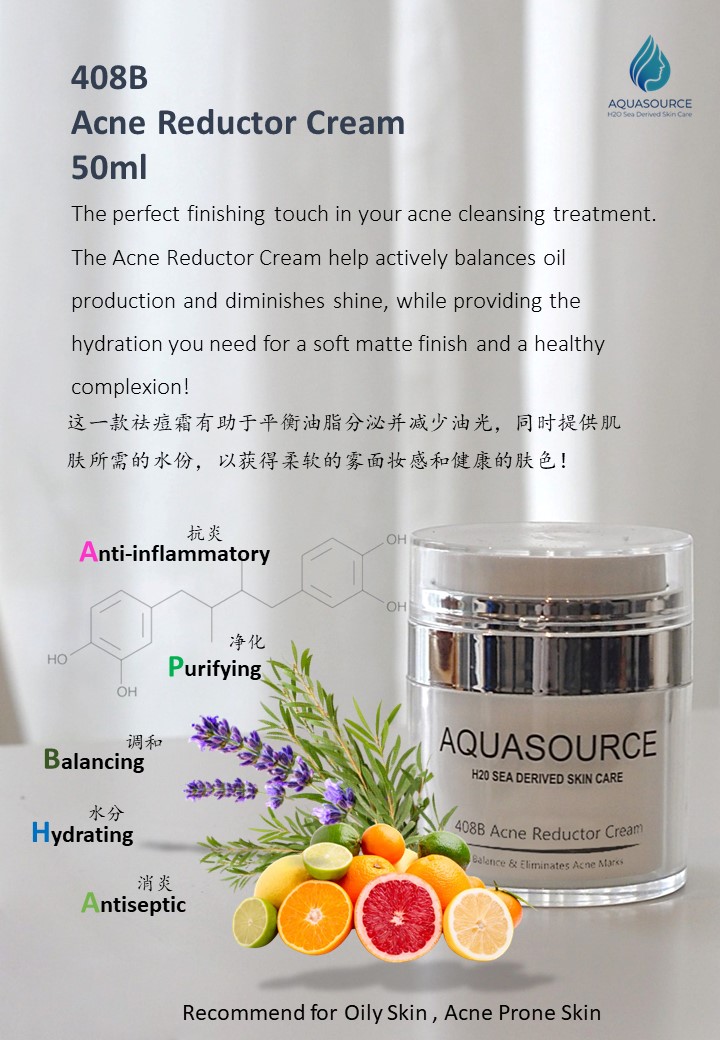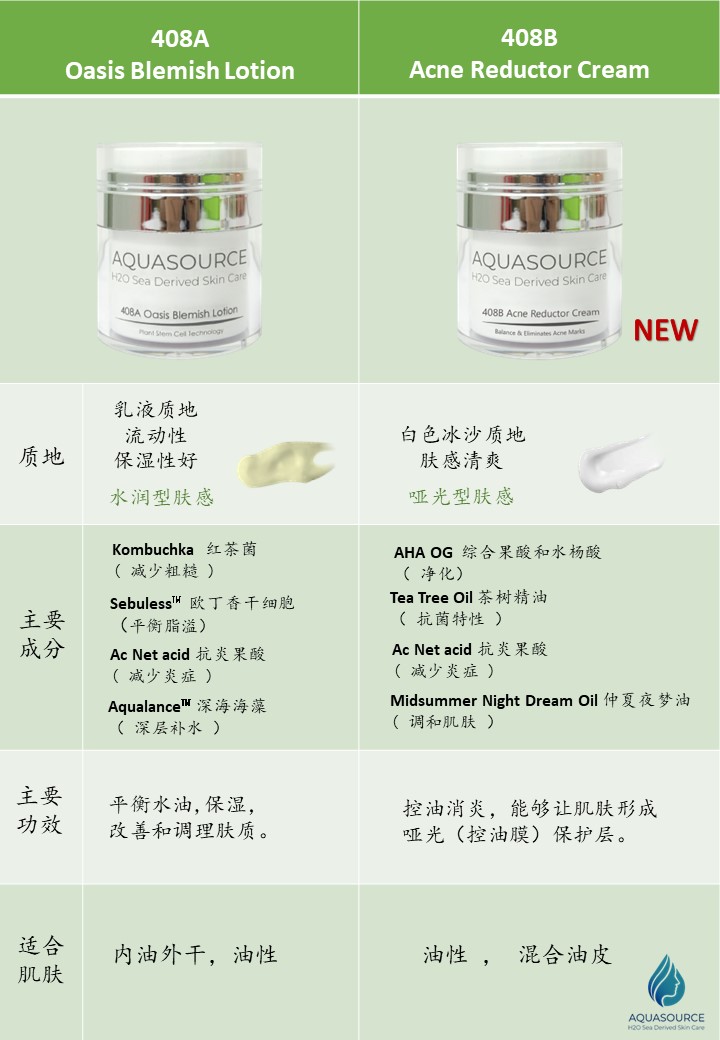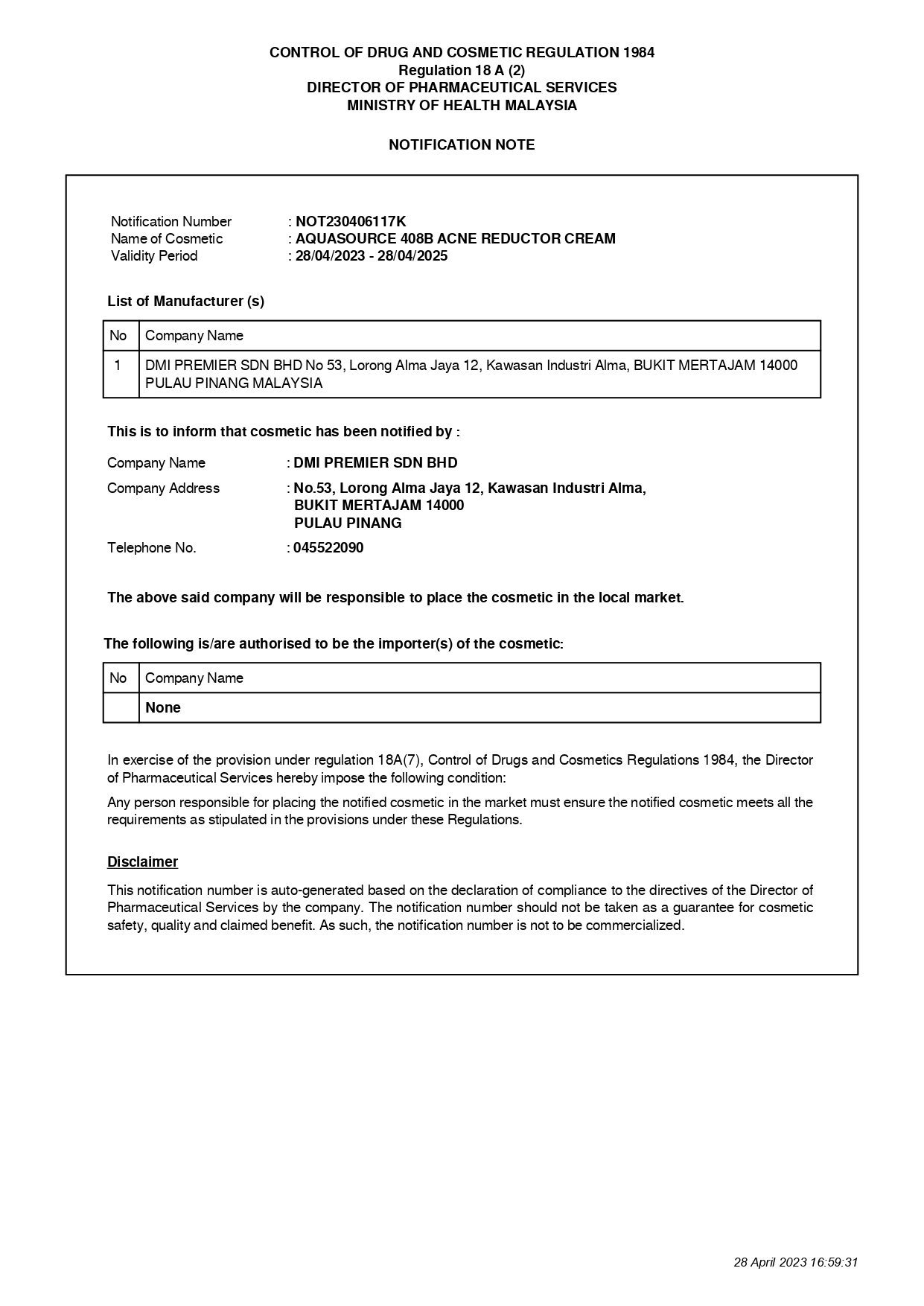 408B Acne Reductor Cream (50ml)
RM152.00
Size : 50ml
Retail Selling Price :
(WM) RM152  (EM)  RM162
Description
Additional information
Active Ingredients
Ingredients
Description
The perfect finishing touch in your acne cleansing treatment. The Acne Reductor Cream help actively balances oil production and diminishes shine, while providing the hydration you need for a soft matte finish and a healthy complexion!
这一款祛痘霜有助于平衡油脂分泌并减少油光,同时提供肌肤所需的水份,以获得柔软的雾面妆感和健康的肤色!
Skin Type : Oily Skin, Acne Skin
Direction :
Apply using light fingertip pressure in upward strokes to face and neck.
—————————————————————————————————————————————–
Active Ingredients :
| Ac Net (Oleanolic acid & Nordihydroguaiaretic acid) 
Fights "break-out" by reducing hyperseborrhoea, hyperkeratosis, inflammation and bacterial proliferation, control bacterial growth. 可以控制细菌生长引起痘痘再度爆发,减少炎症和细菌增殖.
| AHA OG (Lactic Acid, Glycolic Acid, Citric Acid, Malic Acid, Salicylic Acid) 综合果酸和水杨酸
Cocktail of several fruit acids and salicylic acid. Exfoliates the skin's surface, stimulating collagen production and deep cleansing.
| Midsummer Night Dream Oil仲夏夜梦油
Tonifying, Purifying, Antioxidant, Protecting Nourishing, Regenerating, Soothing. 调和,净化,抗氧化,保护滋养,再生,舒缓.
| Melaleuca Alternifolia (Tea Tree) Leaf Oil (Tea Tree Essential Oil) 互葉白千層
As a topical antiseptic agent because of its antimicrobial properties, especially in the treatment of acne.
Ingredients :
Purified Water, Glycerin, Propylene Glycol, Ceteareth-20, Cetearyl Alcohol, Polyglyceryl-4 Isostearate & Coco Caprylate/Caprate & Polyglyceryl-3 Polyricinoleate & Sorbitan Isostearate & Disteardimonium Hectorite, Cyclopentasiloxane, Jasminum Officinale, Paeonia Officinalis, Prunus Serrulate, Citrus Aurantium Amara, Lavandula Angustifolia, Sambucus Nigra, Rosa Damascena, Oleanolic Acid, Nordihydroguaiaretic Acid, Lactic Acid, Glycolic Acid, Citric Acid, Malic Acid, Salicylic Acid, Melaleuca Alternifolia (Leaves) Oil, DMDM Hydantoin, Phenoxyethanol, Chlorphenesin, Sodium Chloride.