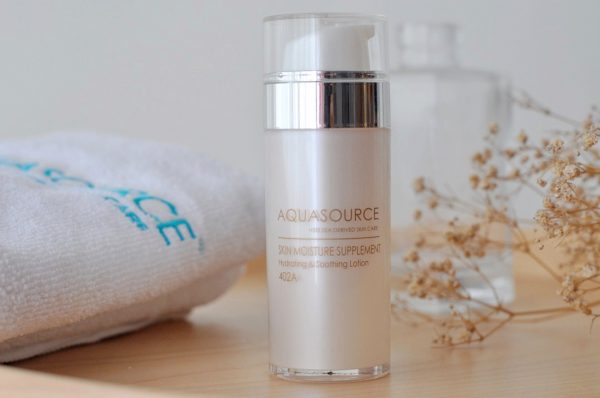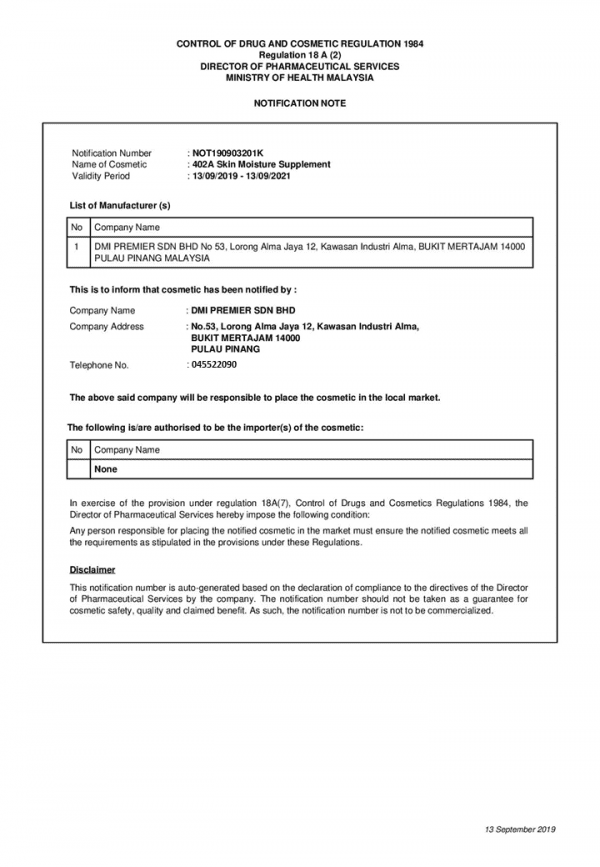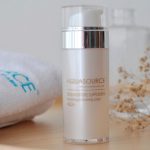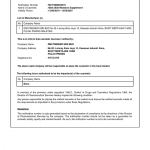 402A Skin Moisture Supplement (50ml)
RM152.00
Size : 50ml
Retail Selling Price :
(WM) RM152  (EM)  RM162
Description
Additional information
Additional Information 2
Description
Aromatic hydrating and soothing cream. Medium weight texture provides moisture and hydration to keep skins oil and water levels balanced. Lavender and Orange Essential oil are assisting in calming and maintaining a healthy complexion.
芳香保湿舒缓霜。质地中等轻盈的嫩肤霜给予保湿和补水,维持皮脂油和水位的平衡。薰衣草和柑橘精油有助于镇静和保持健康的肤色。
Skin Type : Specially for :-
Dry Skin
Aging Skin
Tired Skin
Dull Complexion
Lack Adsorption
Direction :
Apply using light fingertip pressure in upward strokes to face and neck.
———————————————————————————————————————————————————————-
Active Ingredients :
| Aqualance™
Acts as an osmo-protecting, moisturizing and hydrating agent. It ensures aqua-homeostasis of the skin cells and progressively rehydrates different layers of the skin. 一种保湿剂,它确保皮肤细胞的水平衡,并逐渐补充水分不同层的皮肤
| Orange Essential Oil 柑橘精油
Improving your skin tone, elasticity and hydration. Anti-oxidant. 改善您的肤色、弹性和水分。抗氧化。
| Lavender Essential Oil 薰衣草精油
Balancing sebum secretion. Calming and relaxing. 平衡皮脂分泌,有镇静,放松心情的效果。
| Argan Oil 坚果油
Thanks to high levels of vitamin E and essential fatty acids (namely, oleic acid and linoleic acid) argan oil has extremely hydrating effects for dry skin. 含有很高的维生素E和必需脂肪酸。坚果油对干燥的皮肤具有极大的保湿作用。
| Chamomile 西洋菊
Soothing & Calming 舒缓,镇定。
Ingredients :
Water, Glycerin, Paraffinum Liquidum, Octydodecanol. Dimethicone, Cetyl Alcohol, Glyceryl Stearate, PEG-100 Stearate, Homarine HCL, Erythritol, Butylene glycol, laureth-3, Hydroethylcellulose, Acetyl Dipeptide-1 Cetyl Ester, Argania Spinosa Kernel Oil, Tocopheryl Acetate, Phenoxyethanol, Caprylyl Glycol, Chlorphenesin, Chamomilla Recutita (Matricaria) Extract, Propylene Glycol, Carbomer, Petrolatum, Allantoin, Triethanolamine, Diazolidinyl Urea, Tetrasodim EDTA, Menthol, Iodopropynl Butylcarbamate, Lavandula Angustifolia Oil, Citrus aurantium dulcis (orange) peel oil.