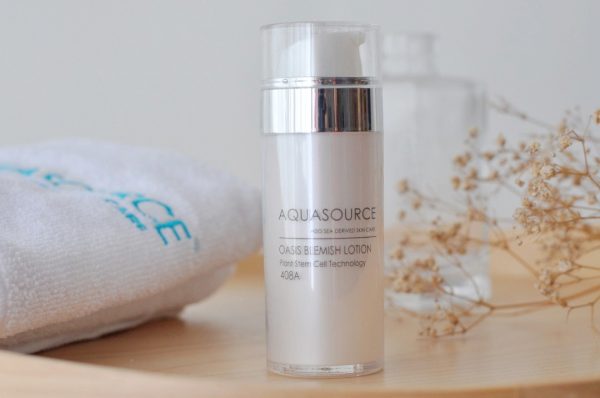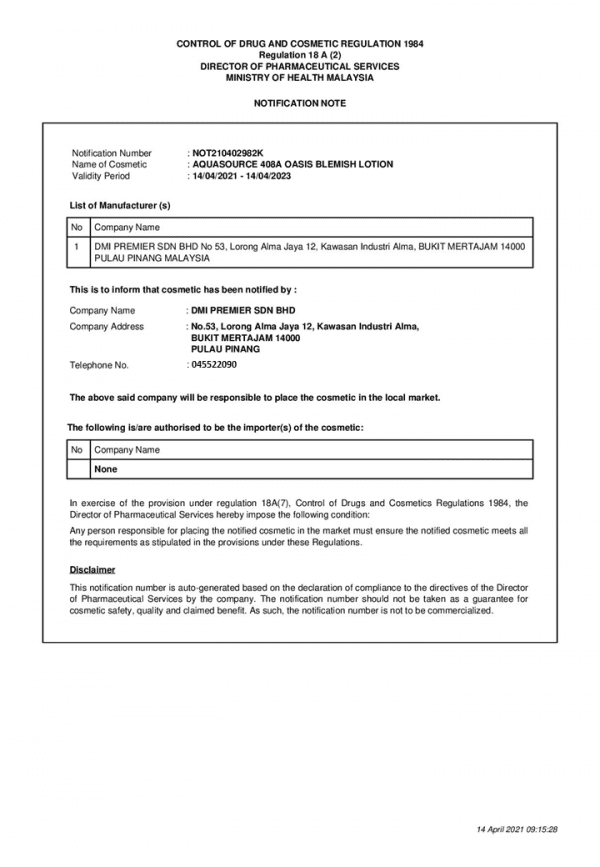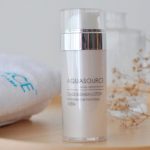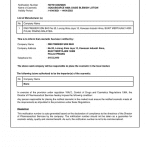 408A Oasis Blemish Lotion (50ml)
RM152.00
Size : 50ml
Retail Selling Price :
(WM) RM152 (EM)  RM162
Description
Additional information
Additional Information 2
Description
Idea for oily-dry combination skin type, the formulated plant extracts can anti-inflammation and anti-blemish effectively.
针对油性干性混合性皮肤类型的理念,配制的植物提取物可以有效地抗炎和抗瑕疵。
Skin Type : Specially for :-
Oily to Combination Skin
Acne Skin
Oily Skin
Direction :
Apply using light fingertip pressure in upward strokes to face and neck.
———————————————————————————————————————————————————————-
Active Ingredients :
| Ac Net (Oleanolic acid & Nordihydroguairetic acid)
Fights "break-out" by reducing hyperseborrhoea, hyperkeratosis, inflammation and bacterial proliferation, control bacterial growth. 可以控制细菌生长引起痘痘再度爆发,减少炎症和细菌增殖。
| Kombuchka 红茶菌
Improve skin radiance , reduce skin roughness and anti-glycation. 加强皮肤亮泽,减少皮肤粗糙度和抗糖化。
| Sebuless (Syringa Vulgaris Extract) 欧丁香干细胞
Helps with the balance of seborrhea, reduces skin blemishes and controls skin redness, and reduces of inflammatory hyperpigmentation. 有助于平衡脂溢,减少皮肤瑕疵和控制容易发红皮肤,并减少发炎症。
| Aqualance : Homarine HCL, Erythritol
Acts as an osmo-protecting, moisturizing and hydrating agent. It protects against hyper- & hypotonic stress, desiccation and UV dehydration. 一种保湿剂。它可防止高氧和低氧压力、干燥和紫外线脱水。
Ingredients :
Water, Glycerin, Vegetable Oil, Octyldodecanol, Glyceryl Stearate, PEG-100 Stearate, Dimethicone, Cetyl Alcohol, Chamomilla Recutita (Matricaria) Extract,Black Tea Fermented, Oleanolic acid & Nordihydroguaiaretic acid, Syringa Vulgaris Extract, Homarince HCL, Erythritol, Sodium Ascorbyl Phosphate, Tocopheryl Acetate, Caprylyl Glycol, Phenoxyethanol, Laureth-3 Hydroethylcellulose, Acetyl Dipeptide-1, Mirabilis Jalapa Extract, Chlorphenesin, Phenoxyethanol, Algae Extract.