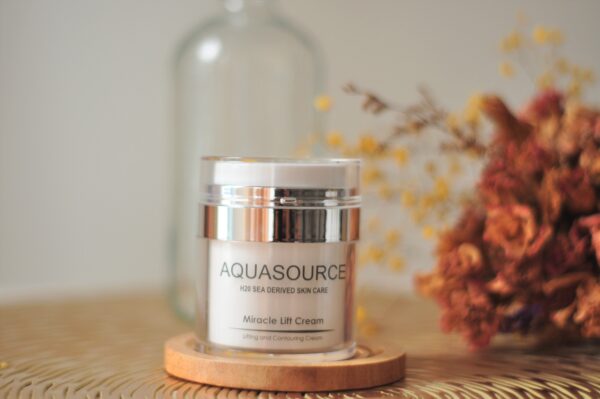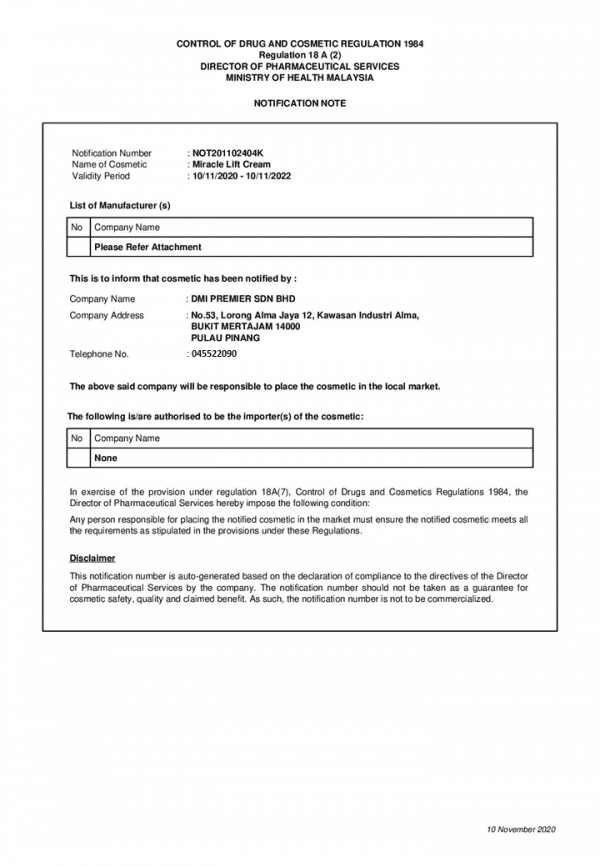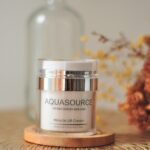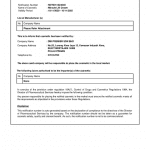 Miracle Lift Cream (50ml)
RM162.00
Size : 50ml
Retail Selling Price :
(WM) RM162  (EM)  RM172
Description
Additional information
Product Flyer
INGREDIENTS
Description
Specially formulated lift cream with precious traditional Chinese herbs Cordyceps given strong antioxidant, strong antibacterial properties and proven whitening effect on skin. Improves the skin texture by contouring and lifting with simple massage.
特别配制的紧致脸霜含有珍贵的传统中草药冬虫夏草给与高抗氧化,抗菌性能和美白效果 。通过简单的按摩手法,提升轮廓和改善皮肤质地。
Skin Type : Specially for :-
Dry Skin
Premature Skin
Mature Skin
Sagging Skin
Dull Complexion Skin
Direction :
Apply using light fingertip pressure in upward strokes to face and neck.
———————————————————————————————————————————————————————-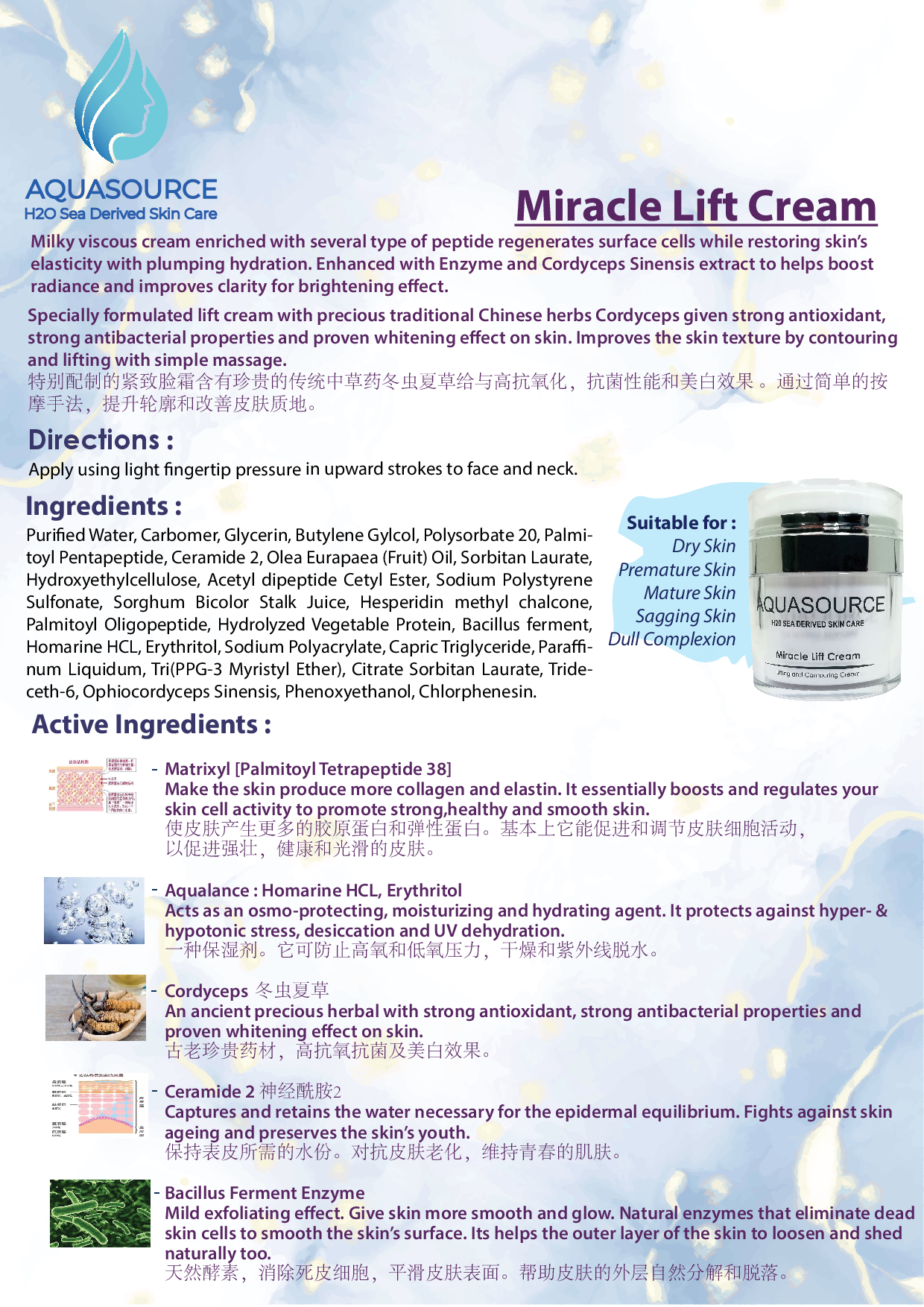 Active Ingredients :
| Matrixyl [Palmitoyl Tetrapeptide 38]
Make the skin produce more collagen and elastin. It essentially boosts and regulates your skin cell activity to promote strong,healthy and smooth skin. 使皮肤产生更多的胶原蛋白和弹性蛋白。基本上它能促进和调节皮肤细胞活动,以促进强壮,健康和光滑的皮肤。
| Aqualance : Homarine HCL, Erythritol
Acts as an osmo-protecting, moisturizing and hydrating agent. It protects against hyper- & hypotonic stress, desiccation and UV dehydration. 一种保湿剂。它可防止高氧和低氧压力、干燥和紫外线脱水。
| Cordyceps 冬虫夏草
An ancient precious herbal with strong antioxidant, strong antibacterial properties and proven whitening effect on skin. 古老珍贵药材,高抗氧抗菌及美白效果。
| Ceramide 2 神经酰胺
Captures and retains the water necessary for the epidermal equilibrium. Fights against skin ageing and preserves the skin's youth. 保持表皮所需的水份。对抗皮肤老化,维持青春的肌肤。
| Bacillus Ferment Enzyme
Mild exfoliating effect. Give skin more smooth and glow. Natural enzymes that eliminate dead skin cells to smooth the skin's surface. Its helps the outer layer of the skin to loosen and shed naturally too. 天然酵素,消除死皮细胞,平滑皮肤表面。帮助皮肤的外层自然分解和脱落。
Ingredients :
Purified Water, Carbomer, Glycerin, Butylene Gylcol, Polysorbate 20, Palmitoyl Pentapeptide, Ceramide 2, Olea Eurapaea (Fruit) Oil, Sorbitan Laurate, Hydroxyethylcellulose, Acetyl dipeptide Cetyl Ester, Sodium Polystyrene Sulfonate, Sorghum Bicolor Stalk Juice, Hesperidin methyl chalcone, Palmitoyl Oligopeptide, Hydrolyzed Vegetable Protein, Bacillus ferment, Homarine HCL, Erythritol, Sodium Polyacrylate, Capric Triglyceride, Paraffinum Liquidum, Tri(PPG-3 Myristyl Ether), Citrate Sorbitan Laurate, Trideceth-6, Ophiocordyceps Sinensis, Phenoxyethanol, Chlorphenesin.