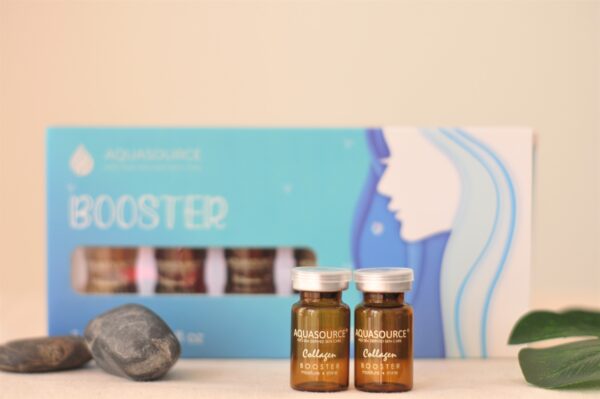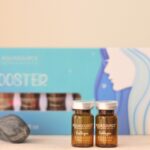 Collagen Booster (5ml/5btls)
RM56.00
Size : 5ml x 5btls
Retail Selling Price :
(WM) RM56  (EM)  RM64
Description
Additional information
Additional Information 2
Description
A powerful, visibly skin-plumping and micro-filling serum that hydrates and smooths the look of wrinkles with Moist 24 and Peptide. Skin Tightener provide lifting effect.
明显丰满度和微填充的滋润光亮安瓶,加入白茅根和肽使皱纹看起来更保湿和光滑。同时海藻给与提升效果。
Skin Type : All Skin Type
Specially for :-
Aging skin
Mature Skin
Pre-Mature Skin
Sagging Skin
Direction :
Apply to skin in a thin layer and gentle massage on whole face. Allow to dry before applying moisturiser.
---
Active Ingredients :
| Imperata Cylindrira Roots Extract (Moist 24)  白茅根提取物
Provides skin hydration, moistures the epidermis up to 24Hours 提供皮肤水分, 保湿表皮长达 24小时
| Skin Tightener  Macrocystis Pyrifera (Brown Algae)
Extract of a giant brown seaweed 棕色海藻提取物
It is considered an anti-septic and anti-irritant that can not only heal sun-damaged skin, but can prevent wrinkles.它被认为是一种消炎和抗刺激剂,不仅可以治愈受阳光损坏的皮肤,还可以防止皱纹。
Immediate lifting effect 立即提升效果
| Peptide  肽
Prevent wrinkles and fine lines and give muscle relaxation. 防止皱纹和细纹,让肌肉放松。
| Vitamin C
Antioxidant, moisturizing, collagen synthesis, skin cell renewal.
| Vitamin E
Ingredients :
Water, Sodium PCA, Propylene Glycol, Diazolidinyl Urea, Iodopropynyl Butylcarbamate, Ceteareth-20, Imperata Cylindira Root Extract, Palmitoyl Pentapeptide-4, Macrocystis Pyrifera (Kelp), Hydrolyzed Vegetable Protein, Hyaluronic Acid, Homarine HCL, Acetyl Dipeptide-1 Cetyl Ester, Hydroxyethylcellulose, Laureth-3, Tocopheryl Acetate, Sodium Ascorbyl Phosphate, Phenoxyethanol.