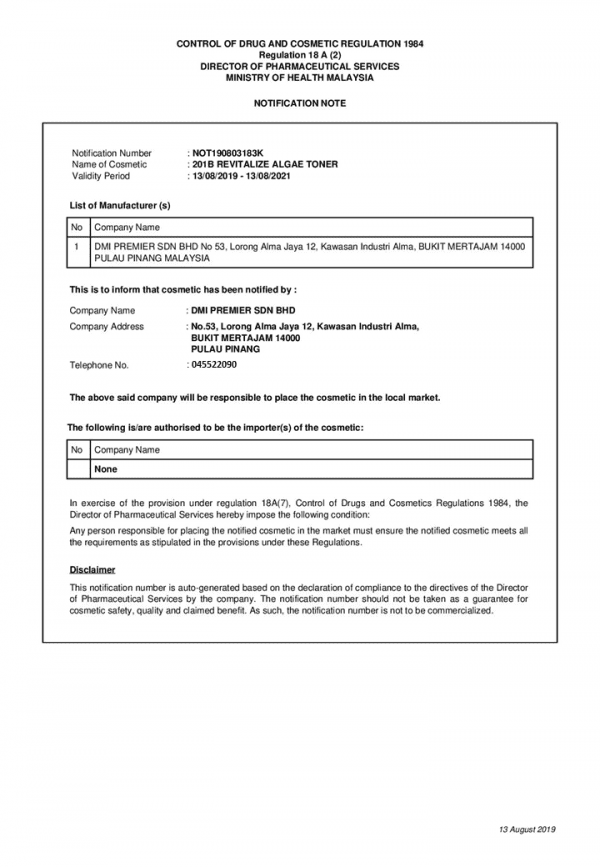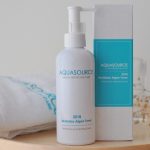 201B Revitalize Algae Toner (200ml)
RM122.00
Size : 200ml
Retail Selling Price :
(WM) RM122  (EM)  RM132
Description
Additional information
Additional Information 2
Description
Conditioning toner with enzymatic extract to regenerate skin and restore its moisture .Promote a healthy ,bright and matte complexion. Idea for dull complexion, oily skin and mature skin.
结合海藻和白茅根精髓可让皮肤再生和恢复水分。天然酵素给予健康肌肤光泽度和平衡油脂。适合老化,油性和肤色不均的肌肤。
Skin Type : All Skin Type
Specially for :-
Tired Skin
Combination Skin
Dull Complexion
Lack Absorption
Acne Skin
Aging and Sagging Skin
Pigmentation
Direction :
Apply a small amount of tonic on a cotton and wipe on face and neck.
---
Active Ingredients :
| Marine Algae 海洋藻类
High moisturizing effect, avoid skin dehydration, protects against hyper- and hypotonic stress, desiccation and UV dehydration stress. 高保湿效果, 避免皮肤脱水, 防止高和低温的刺激, 避免干燥和紫外线脱水的压力。
| Imperata Cylindrira Roots Extract (Moist 24) 白茅根提取物
Provides skin hydration, moistures the epidermis up to 24Hours 提供皮肤水分, 保湿表皮长达 24小时
| Sodium Hyaluronate 透明质酸钠
Can keep the skin moisturized smooth, delicate and tender, flexible, with anti-wrinkle, anti-wrinkle function. 可保持皮肤滋润光滑, 细腻柔嫩, 富有弹性, 具有防皱, 抗皱的作用。
Create plumping effect, retain skin hydration, increase skin smoothness. 形成丰满效果,维持皮肤水量,增加皮肤光滑度。
| Peptide 胜肽
Prevent wrinkles and fine lines and give muscle relaxation. 防止皱纹和细纹,让肌肉放松。
| Bacillus Ferment Enzyme
Natural enzymes that eliminate dead skin cells to smooth the skin's surface 天然酶, 消除死皮细胞, 平滑皮肤表面。
Ingredients :
Purified water, Glycerin, Chamomille Recutita (Matricaria) Extract, Carbomer, Homarine HCL, Erythritol, Imperata Cylindrica Root Extract, Laureth-3, Butylene Glycol, Hydroethylcellulose, Acetyl Dipeptide-1 Cetyl Ester, Sodium Hyaluronate, Algae Extract, Phenoxyethanol, Chlorphenesin, Caprylyl Glycol.