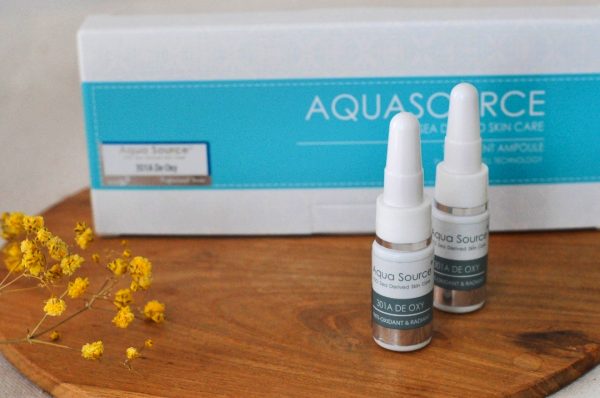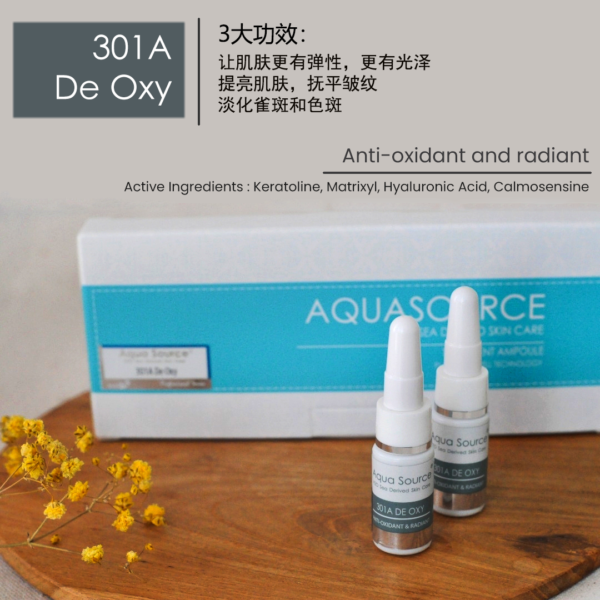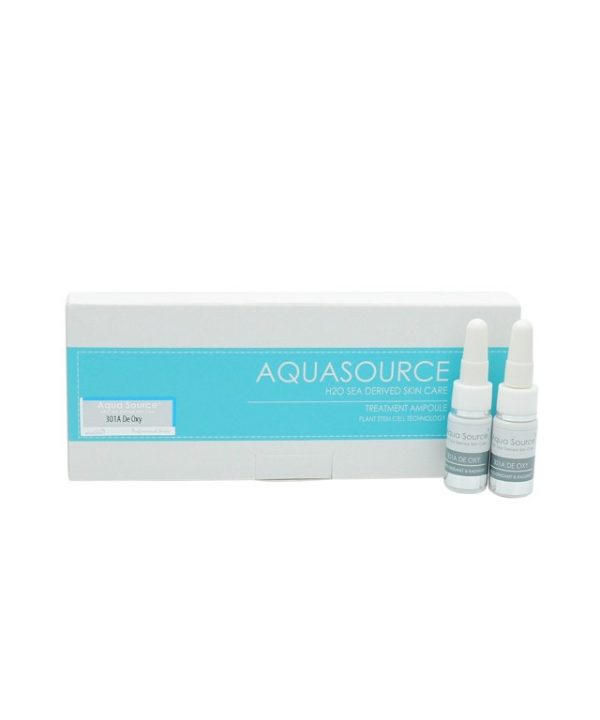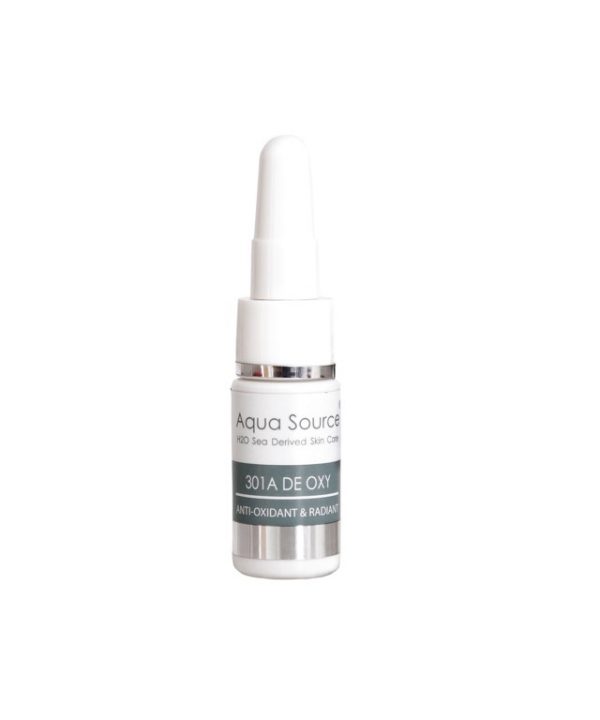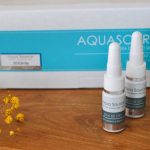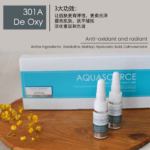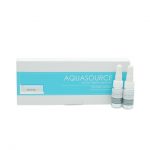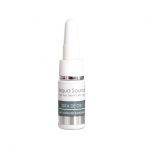 301A De Oxy (5ml/10btls)
RM210.00
Size : 5ml x 10btls
Retail Selling Price :
(WM) RM210  (EM)  RM220
Description
Additional information
Additional Information 2
Description
Powered by peptides and potent botanicals such as marine algae and Moist 24 , this fusion of science and nature sculpts contours, reduces wrinkles, and infuses skin with lasting hydration.
结合科学与自然的融合以胜肽塑造了轮廓,减少了皱纹,海藻和白茅根同时给皮肤注入了的水份。
Skin Type : All Skin Type
Specially for :-
Dehydrated Skin
Dry Skin
Dull complexion
Aging skin
Mature Skin
Pre-Mature Skin
Sagging Skin
Direction :
Apply to skin in a thin layer on spot area and allow to dry before applying moisturiser.
---
Active Ingredients :
| Marine Algae 海洋藻类
High moisturizing effect, avoid skin dehydration, protects against hyper- and hypotonic stress, desiccation and UV dehydration stress. 高保湿效果,避免皮肤脱水,防止高和低温的刺激,干燥和紫外线脱水的压力。
| Imperata Cylindrira Roots Extract (Moist 24)   白茅根提取物
Provides skin hydration, moistures the epidermis up to 24Hours 提供皮肤水分, 保湿表皮长达 24小时
| Matrixyl [Palmitoyl Tetrapeptide 38]
Make the skin produce more collagen and elastin. It essentially boosts and regulates your skin cell activity to promote strong,healthy and smooth skin. 使皮肤产生更多的胶原蛋白和弹性蛋白。基本上它能促进和调节皮肤细胞活动,以促进强壮,健康和光滑的皮肤。
| Bacillus Ferment Enzyme 枯草桿菌
Bacillus ferment is an enzymatic exfoliant derived through the fermentation of bacillus subtilis. 杆菌发酵是通过杆菌亚皮的发酵衍生的酶外分物。
It contains a protease that has a keratolytic activity which 它含有一种蛋白酶,具有去角质的功效。
Natural enzymes that eliminate dead skin cells to smooth the skin's surface 天然酵素,消除死皮细胞,平滑皮肤表面。
Its helps the outer layer of the skin to loosen and shed naturally too. 帮助皮肤的外层自然分解和脱落。
Ingredients :
Purified water, Glycerin, Homarine HCL, Erythritol, Sodium Hyaluronate, Carbomer, Acetyl dipeptide-1, Cetyl Ester, Laureth-3, Hydroethylcellulose, Butylene Glycol, Imperata Cylindrica Roots Extracts, Palmitoyl Pentapeptide, Sodium Ascorbyl Phosphate, Black Tea ferment, Aloe Barbadensis leaf extract, DMDM Hydantoin.