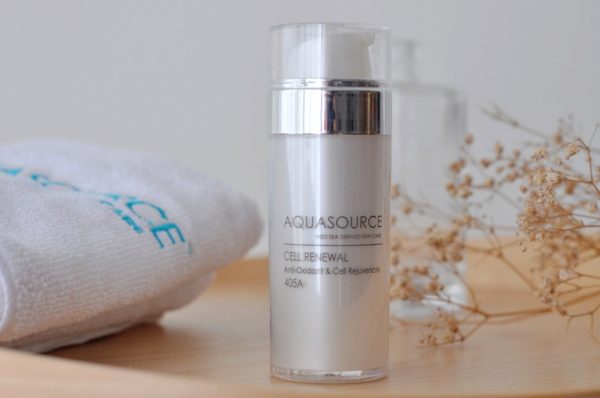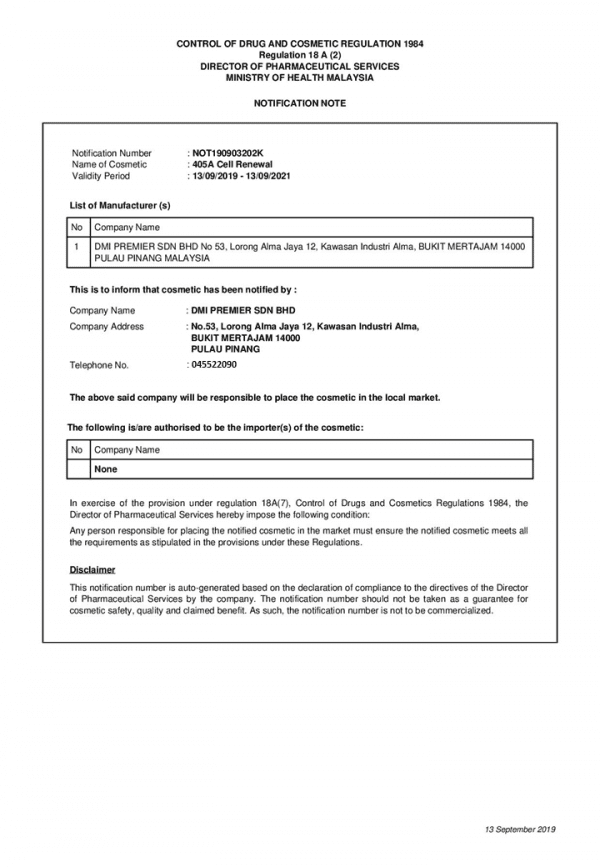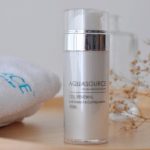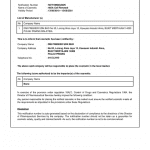 405A Cell Renewal (50ml)
RM152.00
Size : 50ml
Retail Selling Price :
(WM) RM152  (EM)  RM162
Description
Additional information
Additional Information 2
Description
Reawaken tired skin and give a radiance look. Vitamin C can improve uneven skin tone and Enzyme acts as mild exfoliating agent and smooth the skin's surface.
重新唤醒疲惫的肌肤,给人一种容光焕发的样貌。维生素C可以改善肤色不均。酵素是很好的去角质剂和平滑皮肤表面。
Skin Type : Specially for :-
Dry Skin
Aging Skin
Tired Skin
Dull Complexion
Lack Adsorption
Direction :
Apply using light fingertip pressure in upward strokes to face and neck.
———————————————————————————————————————————————————————-
Active Ingredients :
| Bacillus Ferment Enzyme
Mild exfoliating effect. Give skin more smooth and glow. Natural enzymes that eliminate dead skin cells to smooth the skin's surface. Its helps the outer layer of the skin to loosen and shed naturally too. 天然酵素,消除死皮细胞,平滑皮肤表面。帮助皮肤的外层自然分解和脱落。
| Tocopheryl Acetate( Vitamin E )
Can reduce signs of aging, helping with sun damage, alleviating eczema and managing psoriasis. 有效减少老化迹象,帮助预防紫外线的损伤,减轻牛皮癣及湿疹的症状
| Sodium Ascorbyl Phosphate (SAP) , Vitamin C
Antioxidant, lightens skin tone, fades discoloration, and fights acne. Increase collagen synthesis. 抗氧化剂,提亮肤色,淡化色素,并对抗痤疮。 增加胶原蛋白增生。
| Calmosensine
Messenger of happiness and muscle relaxation. Modulates perception of unpleasant sensations, enhance wellbeing, alleviates tension to prevent the onset of expression lines and wrinkles. 放松剂,缓解紧张,防止产生表达情纹和皱纹。
| Argan Oil 坚果油
Thanks to high levels of vitamin E and essential fatty acids (namely oleic acid and linoleic acid) argan oil has extremely hydrating effects for dry skin. 含有很高的维生素E和必需脂肪酸。坚果油对干燥的皮肤具有极大的保湿作用。
Ingredients :
Water, Glycerin, Vegetable Oil, Octyldodecanol, Glyceryl Stearate, PEG-100 Stearate, Dimethicone, Cetyl Alcohol, Chamomilla Recutita (Matricaria) Extract,Argania Spinosa Extract,Black Tea Fermented, Bacillus Ferment, Homarince HCL, Erythritol, Sodium Ascorbyl Phosphate, Tocopheryl Acetate, Caprylyl Glycol, Phenoxyethanol, Laureth-3 Hydroethylcellulose, Acetyl Dipeptide-1, Mirabilis Jalapa Extract, Chlorphenesin, Phenoxyethanol, Algae Extract.